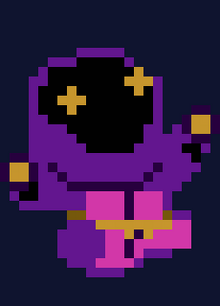 Welcome to the The Advanced Ammonomicon Wiki
Edit
Welcome to the Advanced Ammonomicon! A wiki dedicated to Enter the Gungeon purely for a love of the game and its characters. This wiki will try to have information on everything Gungeon, weapons, NPC's, enemies, and everything in between!
About Enter The Gungeon
Edit
Enter the Gungeon is a bullet hell rogue-like game developed by Dodgeroll and published in 2016 by Devolver Digital.
It stars a group of morally grey heroes shooting their way through a gun themed dungeon, amusingly named The Gungeon, with the desire to reach the treasure that it clings to with all its firepower, so that they may journey back into the past and change the things that they regret about their various pasts.
However the Gungeon contains many more secrets, the characters had best not worry about their pasts, for the future holds a far greater challenge.
Categories
Edit
Living Things / Robots
Edit
Inanimate Objects
Edit
Locations
Edit
Elsewhere Online
Edit
The Official Enter the Gungeon Wiki at Gamepedia - Link
The Enter the Gungeon Discord Server - Link
Fan-made Content
Edit
This wiki is for Canon, Debatably Canon and Non-Canon articles, as long as they come from the game or from Dodge Roll studios in some way.
However, there is a version of this wiki dedicated to fan-made ideas and concepts for the game.
Feel free to visit to see the ideas of the community.
A Small Message
Edit
I know that a Gamepedia wiki already exists, if you want a wiki with higher visual quality, Click Here.
This wiki is a project for me, about the game I love. The Gamepedia wiki is great for statistics, but I tend to focus on the lore of the Gungeon, more than how much damage each gun does.
I have still tried to include that information, but it is not my main focus.
I simply wish to create something about a game I love, and have a good time.
Latest activity
Edit
Photos and videos are a great way to add visuals to your wiki. Find videos about your topic by exploring Fandom's Video Library.
Community content is available under
CC-BY-SA
unless otherwise noted.